United Logo
Manchester United's current team, which finished second on the Premier League table in the last season, will potentially produce eight fewer points in the upcoming season.
According to sports analytics company Real Analytics, they only have one to eighty chance of winning the league with the same squad. Real Analytics have also predicted that the current United team could finish at the fourth spot; behind Manchester City, Liverpool, and Chelsea next season if they play with the same set of players.
They also predicted the 2016 EPL champions to be Leicester City. They use the latest technologies in artificial intelligence to predict the outcome of a match or a league.
The analytics company also predicted that Liverpool will finish third on the table at the end of the season. They made this predictive analysis after the injury of Red's star defender – Virgil Van Dijk.
The sports analytics company believes that the arrival of Jadon Sancho at Old Trafford will increase the title-winning chances of the Red Devils in the next season by 4.2%.
Furthermore, it will enhance their top-four finish possibility by 50%. As soon as United makes a formal announcement of Sancho's arrival, they will potentially add 4.4 points to their expected points total (from 65.8 to 70.2) for next season.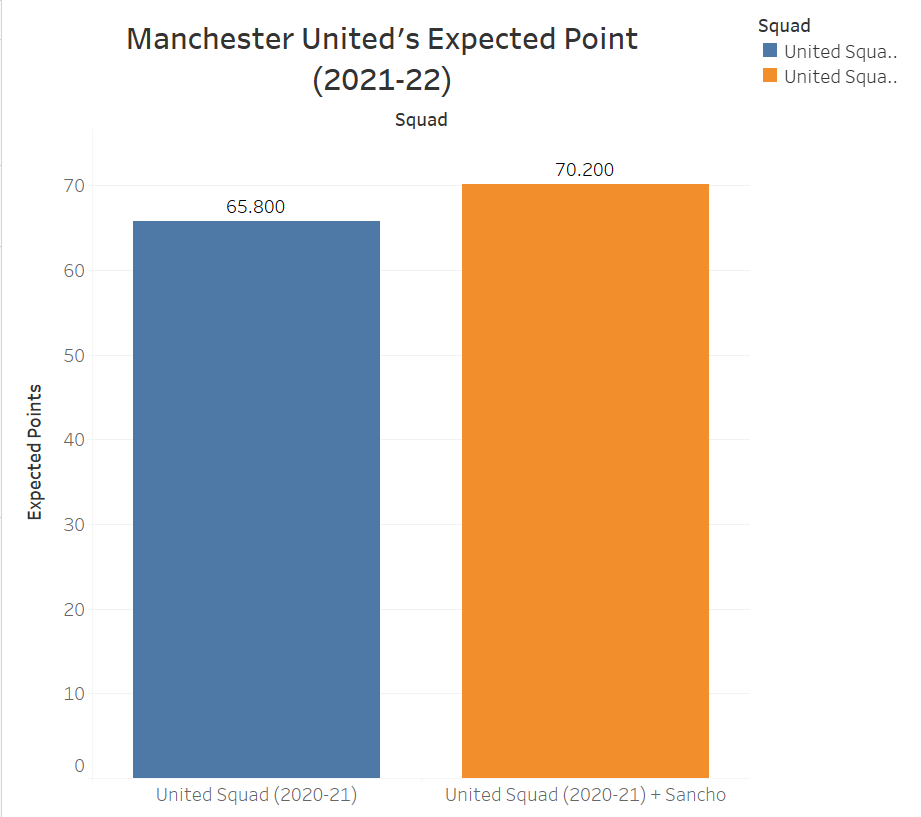 Signing the 21-year-old from Borussia Dortmund is the right decision for Man United.
Statistically, the Londoner could have a great impact on the Manchester United team. Moreover, he could potentially be the best dribbler in the league according to his previous stats.
If United wants to lift their 21st Premier League title, they need to upgrade their squad by bringing in players like Eduardo Camavinga and Raphaël Xavier Varane. Both the Frenchmen can improve the quality of United's squad.
Camavinga has been regarded as one of the best young midfielders in Europe. The 18-year-old midfielder has brilliant concentration and his tackling ability is spectacular.
United's competitor in the race for Camavinga is Paris Saint Germain.
"We've run the numbers on Eduardo Camavinga and we were quite shocked, actually, because he makes a massive difference, which is rare for a player so young," says Ian McHale, a professor of sports analytics at the University of Liverpool and Real Analytics' co-founder.
The Frenchman's addition to the United's 2020-21 squad will have a tremendous effect. Statistically, the young midfielder can add up to six points to their expected points count (from 65.8 to 71.7).
Rennes' midfielder inclusion into the United squad will also increase their chances of a top-four finish by 70 percent. His addition will also lift their title hopes by 6.4%.
Statistically, Camavinga can have a bigger impact on the United squad compared to Sancho: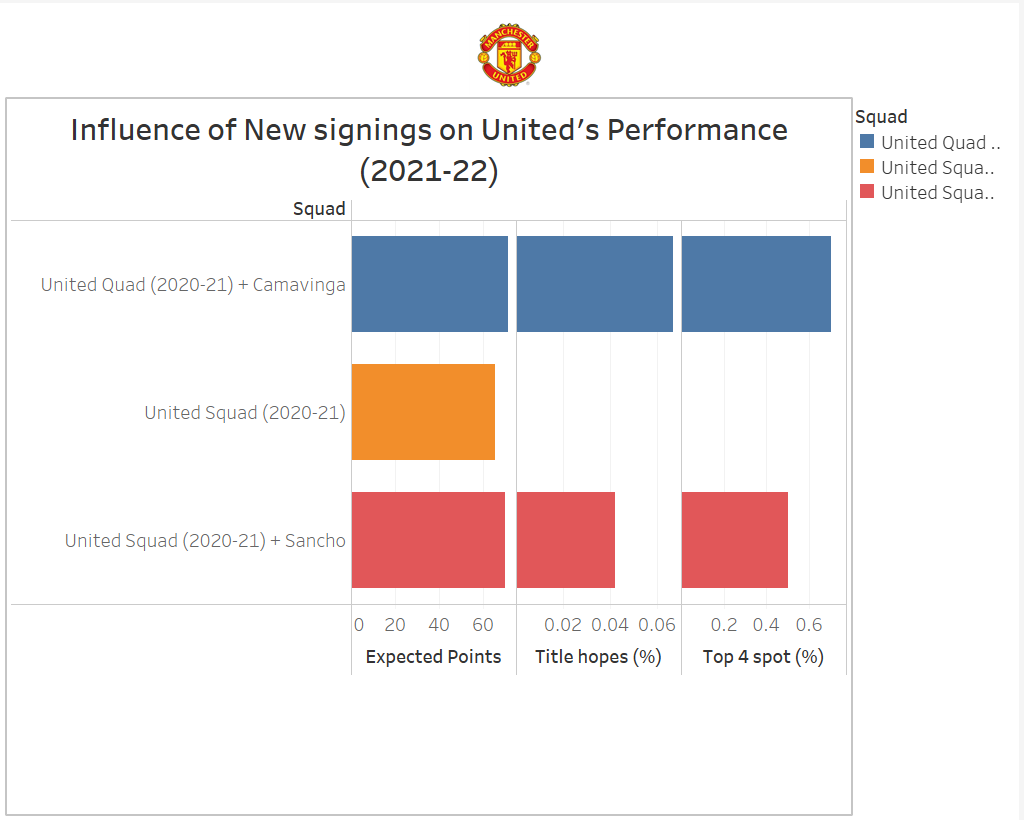 | | | | |
| --- | --- | --- | --- |
| Squad | Expected Points | New signings influence on top 4 spots (%) | New signings influence on title hopes (%) |
| United Squad (2020-21) | 65.8 | 0 | 0 |
| United Squad (2020-21) + Sancho | 70.2 | 50% | 4.20% |
| United Quad (2020-21) + Camavinga | 71.7 | 70% | 6.70% |
The Frenchman's incorporation into Ole's squad will have a 20% bigger impact on the top four standing finish, compared to Sancho. United's title hopes will increase by 6.7% if they sign Camavinga from Rennes. Will Ole sign Camavinga?
United is also close to signing Varane from Real Madrid. Wait until you hear what bringing in Camavinga, Sancho, and Real Madrid center-back Raphael Varane would mean for your chances: a boost of more than 10 points (from 65.8 to 76.2), an 87 statistical chance of finishing in the top four, and a 14.7 percent possibility of winning the first title since Alex Ferguson decided to retire.
According to the co-founder of Real Analytics – Ian McHale, signing these three players can help United in reaching the finals of the UEFA Champions League next season. Manchester United will be in a strong position to give competition to their long-time rivals – Liverpool FC, for second place in the league.
Transfer window deadline:
11 pm (UK Time) 
Tuesday 
August 31